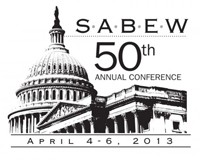 The SABEW Conference session, "Great Sources, Great Storytelling," was originally held on April 6, 2013, at George Washington University.
Blogger Rosland Gammon has interviewed more than 500 business journalists over the last four years about how they've done great stories. She has shared their tips and techniques with you here on BusinessJournalism.org.
During the session, she will interview two top investigative reporters for their tips. Both are SABEW 2012 Best in Business Award winners: Michael W. Hudson, senior editor for the International Consortium of Investigative Journalists, and Alison Young, reporter for USA Today. She will query Hudson about his winning entry in the investigative category: Fraud and Folly: The Untold Story of GE's Subprime Debacle.
Young was the lead reporter on Ghost Factories, an investigation into long-closed lead smelters that continue to pollute neighborhoods. It won in the innovation category.
YOU WILL LEARN HOW TO
Identify under-utilized databases and use more well-known databases, such as the SEC's EDGAR, in new ways.
Use different techniques to find real people to illustrate stories.
Use strategies to track and organize information.
Employ storytelling techniques used by some of the best journalists.
YOUR INSTRUCTORS
As a blogger for the Reynolds Center's BusinessJournalism.org, Rosland Gammon has interviewed more than 500 business journalists about how they produced great stories.
A former business reporter for The Philadelphia Inquirer and Bloomberg News, Gammon also teaches communications at Alverno College in Milwaukee.
Michael W. Hudson is senior editor at the International Consortium of Investigative Journalists. He has won a George Polk Award for magazine reporting, a John Hancock Award for business journalism, and accolades from the National Press Club, the White House Correspondents' Association, the American Bar Association and the N.Y. State Society of CPAs.
He is the author of THE MONSTER: How a Gang of Predatory Lenders and Wall Street Bankers Fleeced America—and Spawned a Global Crisis.
Alison Young is a reporter on USA Today's investigative team and serves on the board of directors of Investigative Reporters and Editors.
Young's honors include two Scripps Howard Awards, two Gerald Loeb Awards, two National Headliners and a Barlett & Steele Award, as well as honors from the Associated Press Media Editors, Sigma Delta Chi, the Heywood Broun Awards and the National Press Club.
SELF-GUIDED LESSON
Check out the session PowerPoint below for storytelling best practices.
PowerPoint presentation