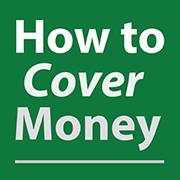 My co-host Mark Remillard and I recently wrapped up Series 2 of the Reynolds Center podcast, How To Cover Money.
Series 1 of our podcast looked at some basics for thinking like a business journalist. Series 2 features tips from top journalists, with plenty of advice on topics like investigative reporting, sports journalism and covering business for broadcast.
You can find Series 2 at iTunes, on Soundcloud and on Stitcher.
You also can download our Listener Guide to using How To Cover Money, both for your own training and in the classroom.
Here's the Series 2 lineup and guests.
Episode One: Michael Grabell of ProPublica offers tips on data journalism and launching investigations. Grabell was a member of a ProPublica team that won the gold medal in the 2014 Barlett & Steele Awards for investigative business journalism, sponsored by the Reynolds Center.
Episode Two: Ben Bergman of public radio station KPCC in Los Angeles talks about covering business for broadcast. Bergman has both a print and broadcast background, and he offers ideas on how to write for the ear as well as the Web.
Episode Three: Rian Bosse, a graduate assistant with the Reynolds Center, talks about Millennials and how they're handling money. Bosse created the Millennials And Money column for BusinessJournalism.org.
Episodes Four and Five: We spend two episodes with Dan Gillmor, the long-time technology journalist who is a professor at the Cronkite School. Gillmor talks about big issues facing the technology world, and offers tips for launching your career as a tech journalist.
Episode Six: In the first of two episodes on the editor's point of view, we talk with Kim Quillen of the Arizona Republic. While at the New Orleans Times-Picayune, Quillen led prize-winning business coverage of Hurricane Katrina and the BP oil spill. She offers advice on what young journalists need to know about covering business.
Episode Seven: We're joined by Marilyn Geewax, a senior editor with NPR who assigns business stories around the country. Geewax gives tips on publications and websites that can help journalists become better at their craft. This episode features the recent Reynolds workshop in Chicago on covering regional stories.
Episode Eight: Mark and I talk about the money in sports rivalries, which was also a topic at our Chicago workshop. There are numerous places where journalists can find information about their local teams and the rivals that they face.
Episode Nine: In the final episode of Series 2, Mark and I look back over the season and pick out some of our Greatest Tips that can help you become a top journalist.


Want the best tips and story ideas from the Reynolds Center in your mailbox every month? Sign up for our monthly newsletter!