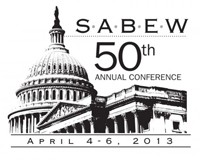 The Donald W. Reynolds National Center for Business Journalism has awarded two journalists a $1,000 fellowship each to attend the 50th annual conference of the Society of American Business Editors and Writers (SABEW) in Washington April 4-6.
As part of the fellowship, Jacquelinne Mejia, a producer/correspondent for EC Hispanic Media in California, and Darren L. Sands, money editor for BlackEnterprise.com in New York, will also attend the Reynolds Center's training at the conference. Those sessions include:
SABEW is also offering fellowships to attend the conference. Details on how to apply for them is on the organization's website.
Here's more on this year's fellows:
Jacquelinne Mejia has reported at the bilingual media company, EC Hispanic Media, in Norwalk, Calif., since graduating from the University of Missouri School of Journalism in May 2011. She was selected last year for the McGraw-Hill Markets Reporting Program at the International Center for Journalists. In her Twitter profile, she describes herself as a "cosmopolitan Angeleno, proud supporter of Mizzou things {black and gold} and a multimedia producer with a love for business news."
Darren L. Sands has covered the business of sports since joining BlackEnterprise.com in September 2012. He is a former Mary C. Wright Fellow at the Village Voice and a Schomburg-Mellon Humanities Fellow at the New York Public Library. He studied communications and history at Hofstra University. He wrote in his application essay: "A few editors have expressed their desire to see me become the next Darren Rovell," referring to the sports business reporter for ESPN. He says he's resisted the cliched response: "No, I want to become the next Darren Sands."