Barlett & Steele Awards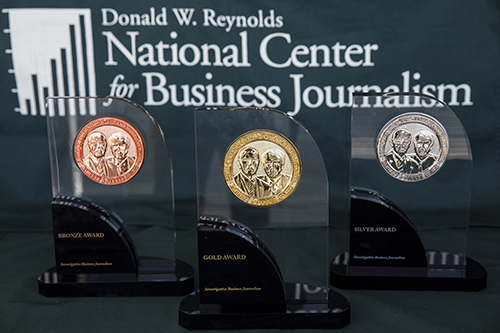 Barlett & Steele Awards: A stellar track record
The Barlett & Steele Awards for Investigative Business Journalism since their 2007 inception have blazed a high-visibility path of excellence in rewarding incisive business reporting that "tells us something we don't know."
The awards are named for the illustrious investigative business journalist team of Don Barlett & Jim Steele, who have worked together more than three decades, receiving two Pulitzers, two National Magazine awards and a long list of other journalism awards.
Administered by the Donald W. Reynolds National Center for Business Journalism, the Barlett & Steele awards for Gold ($2,500 prize), Silver ($1,500) and Bronze ($500) each fall honor journalists and news organizations ranging in size from local to international. A panel of veteran business journalists makes the selections.
"We've been so impressed with the quality of these stories that year after year have delved into the stories that nobody knew about–or shed light on areas they thought they knew about," said Jim Steele.
About Donald Barlett & James Steele
Donald Barlett and James Steele have worked together for more than three decades, first at The Philadelphia Inquirer (1971-1997), where they won two Pulitzer Prizes and scores of other national journalism awards, then at Time magazine (1997-2006), where they earned two National Magazine Awards, becoming the first journalists in history to win both the Pulitzer and its magazine equivalent.
They are now contributing editors at Vanity Fair.
The Washington Journalism Review says of Barlett and Steele: "They are almost certainly the best team in the history of investigative reporting."
Previous Winners
2021
Gold: "The Secret IRS Files" series by a reporting team from ProPublica.
Silver: "Fruits of Labor" by Margie Mason and Robin McDowell of The Associated Press.
Bronze: "The Cutting" by a reporting team from The Oregonian, Oregon Public Broadcasting and ProPublica.
2020
Gold: "Luanda Leaks" by the International Consortium of Investigative Journalists (ICIJ), FRONTLINE, Expresso, the New York Times and 33 other media partners.
Silver: "When the Wells Run Dry" by the Center for Public Integrity and the Los Angeles Times.
Bronze: "Profiting from the Poor" by Wendi C. Thomas of MLK50: Justice Through Journalism, working with ProPublica's Local Reporting Network.
2019
Gold: "Hidden Harm" by Christina Jewett of Kaiser Health News and "Implant Files" by the International Consortium of Investigative Journalists, the NBC News Investigative Unit and the Associated Press.
Silver: "PG&E: Wired for Failure" by The Wall Street Journal staff – in particular reporters Russell Gold, Katherine Blunt and Rebecca Smith.
Bronze: "Polluted by Money" by Rob Davis of The Oregonian.
2018
Gold: "Brexit's Big Short" by Cam Simpson, Gavin Finch and Kit Chellel of Bloomberg News
Silver: "The Investigation of Michael Cohen" by Michael Rothfeld, Joe Palazzolo, Rebecca Ballhaus, Peter Nicholas and Alexandra Berzon of The Wall Street Journal
Bronze: "Cutting 'Old Heads' at IBM" by Peter Gosselin, Ariana Tobin and Ranjani Chakraborty of ProPublica
2017
Gold: "Dangerous Doses" by Sam Roe, Ray Long and Karisa King of Chicago Tribune
Silver: "Sticking with the Pig: A tale of loyalty and loss" by Tony Bartelme of The Post and Courier
Bronze: "Lowering the Bar" by John Fauber, Kristina Fiore and Matt Wynn in MedPage Today
2016
Gold: "The Panama Papers" by CPI's International Consortium of Investigative Journalists and more than 100 media partners worldwide *
Silver: "Testing Theranos" by John Carreyrou, Christopher Weaver and Michael Siconolfi of The Wall Street Journal
Bronze: "OxyContin's 12-Hour Problem" by Harriet Ryan, Lisa Girion and Scott Glover of the Los Angeles Times
2015
Gold: "Fish Slavery" by Robin McDowell, Margie Mason, Martha Mendoza and Esther Htusan of The Associated Press *
Silver: "Unchecked Care" by Christopher Serres and Glenn Howatt of the Minneapolis Star Tribune
Bronze: "Dying for Care" by Pat Beall of The Palm Beach Post
2014
Gold: "Temp Land" by Michael Grabell of ProPublica
Silver: "The Child Exchange" by Megan Twohey
Bronze: "Hospice Inc." by Ben Hallman and Shane Shifflett of The Huffington Post
2013
Gold: "America's Worst Charities" by Kris Hundley and Kendall Taggart in a joint project of the Tampa Bay Times and The Center for Investigative Reporting
Silver: "The United States of Subsidies" by Louise Story of The New York Times
Bronze: "Inside Game: How Corporate Insiders Profit Ahead of the Public" by Susan Pulliam, Rob Barry, Michael Siconolfi and Jean Eaglesham of The Wall Street Journal
2012
Gold: "Vast Mexico Bribery Case Hushed Up by Wal-Mart after Top-Level Struggle" by David Barstow of The New York Times *
Silver: "Ghost Factories" by lead reporters Alison Young and Peter Eisler of USA Today
Bronze: "Prognosis: Profits" by Ames Alexander, Karen Garloch, Joseph Neff and David Raynor
Honorable Mentions:
Bloomberg News, "The Fed's Trillion-Dollar Secret" by Bob Ivry, Bradley Keoun and Phil Kuntz.

Chicago Tribune, "Playing with Fire" by Patricia Callahan, Sam Roe and Michael Hawthorne.

Reuters, "Chesapeake Energy" by Brian Grow, Anna Driver, Joshua Schneyer, Jeanine Prezioso, David Sheppard, John Shiffman and Janet Roberts.
2011
Gold: "Public Pensions, A Soaring Burden" by Craig Harris of The Arizona Republic
Silver: "A Case of Shattered Trust" by Raquel Rutledge and Rick Barrett of the Milwaukee Journal Sentinel
Bronze: "Seniors for Sale" by Michael J. Berens of The Seattle Times
Honorable Mentions:
Bloomberg Markets:

"Profiting From Fallen S

oldiers"

by David Evans.
CNBC:

"

Remington Under Fire: A CNBC Investigation"

by Scott Cohn and CNBC team.

ProPublica:

"Dialysis: High Costs and Hidden Perils of a Treatment Guaranteed to All"

by Robin Fields, Jennifer LaFleur and Al Shaw.
2010
Gold: "Diagnosed with Breast Cancer, Dropped by Insurer" by Murray Waas of Reuters
Silver: "Side Effects: Money, Medicine and Patients" by John Fauber of the Milwaukee Journal Sentinel
Honorable Mentions:
McClatchy Newspapers: "Goldman Sachs and the Housing Crash" by Greg Gordon, Kevin Hall and Chris Adams

Minneapolis Star Tribune: "Hounded: Debtors and the New Breed of Collectors" by Chris Serres and Glenn Howatt

Philadelphia Inquirer: "Inside the Health-Care Crucible: Reports from a Hospital in a Time of Upheaval" by Michael Vitez

USA Today: "The Credit Trap" by Kathy Chu
2009
Gold: The Miami Herald for "Borrowers Betrayed" by Jack Dolan, Matthew Haggman and Rob Barry
Silver: Bloomberg Markets for "AARP's Stealth Fees" by Gary Cohn and Darrell Preston
2008
Gold: BusinessWeek for "Prisoners of Debt" by Robert Berner, Keith Epstein, Brian Grow and Geri Smith
Silver: The Seattle Times for "The Favor Factory" by Hal Bernton and David Heath
2007
Gold: The New York Times for "A Toxic Pipeline" by Walt Bogdanich and Jake Hooker *
Silver: The Baltimore Sun for "On Shaky Ground" by Fred Schulte and June Arney
* The writers of these articles went on to receive a Pulitzer Prize for their reporting the following year.